Profile Settings - General
The 'General' settings page contains several items you can configure to customize your profile. The following information will outline the various components of the 'General' settings page including:
Watch this helpful tutorial video on How to Access General Settings in ARKVault
Access 'Profile' Settings
Click on the profile icon located in the upper right corner of the page and select Settings from the dropdown menu. The Profile Settings page will appear momentarily under the General tab.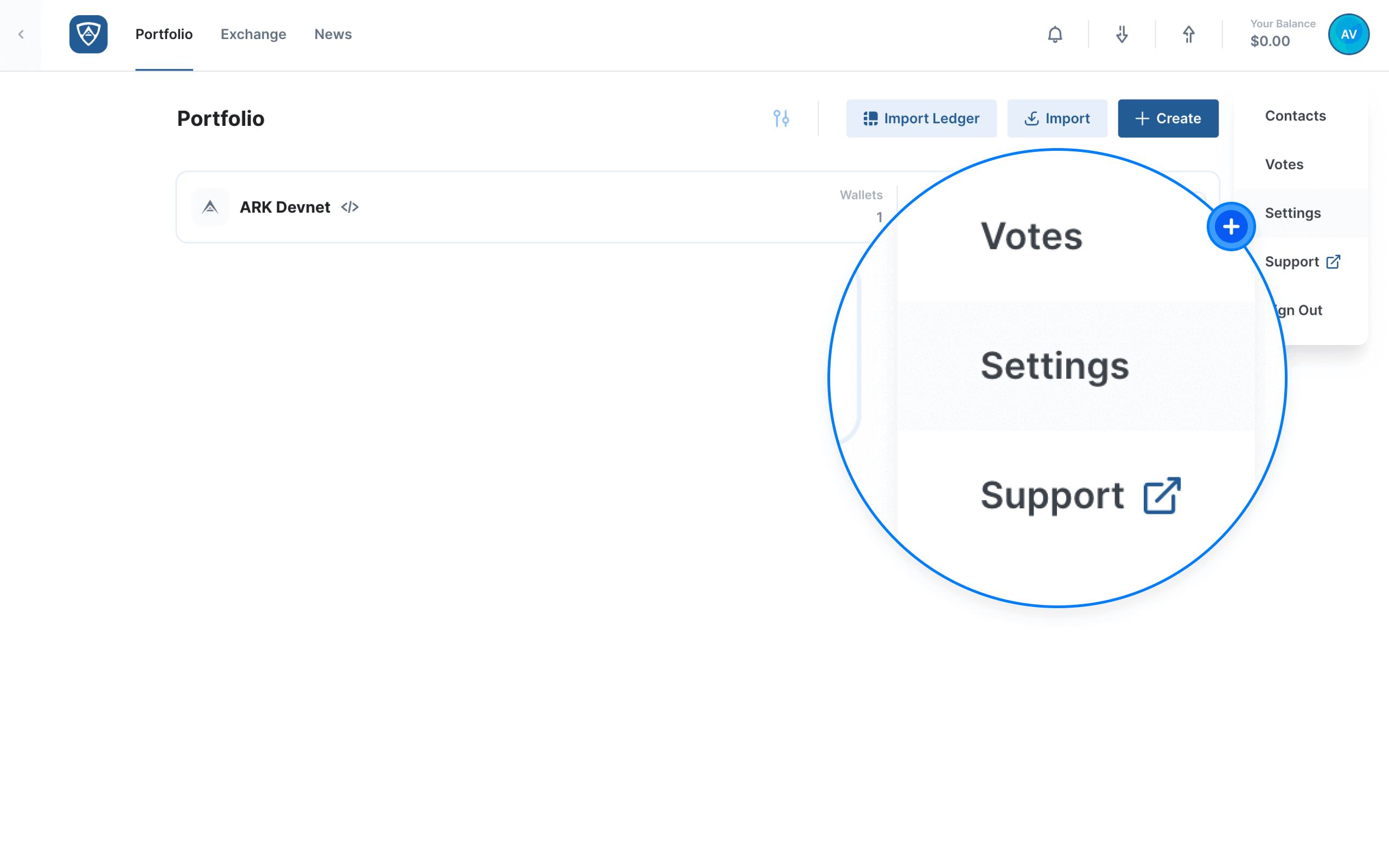 Personal Details
The Personal Details section contains a number of settings that allow you to personalize your profile. Here you can customize your profile name, avatar, passphrase language, market data provider, preferred currency and time format.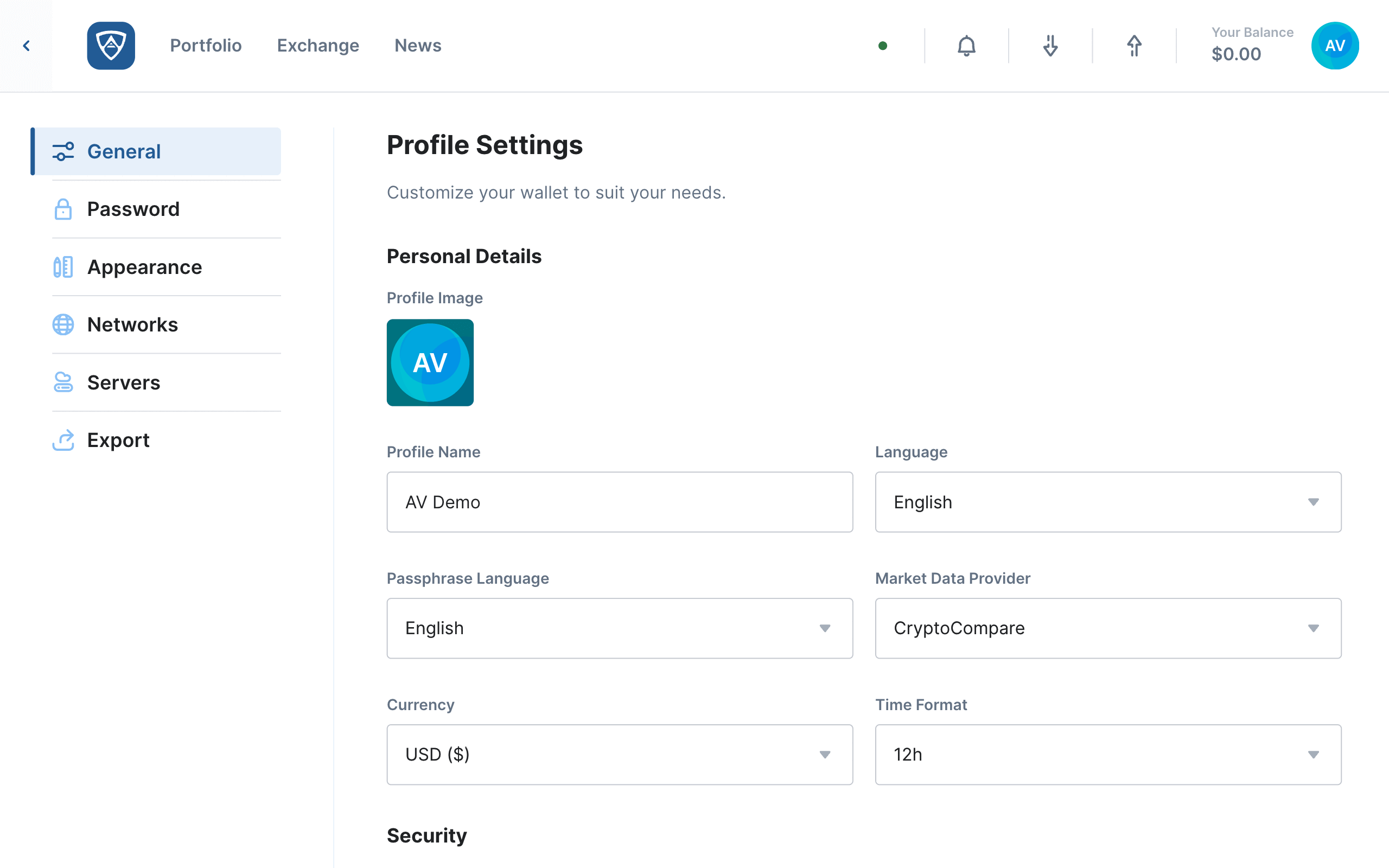 Profile Image (Optional):
The primary image associated with your profile
Auto-generated from your username by default
Supports custom images
Displayed on the sign-in page and in the upper right corner of ARKVault after signing in
Profile Name:
Must contain a minimum of 1 and a maximum of 42 characters
Appears on the sign-in page
Used to auto-generate your default profile avatar
Language - The UI Language used by ARKVault - please note that English is the only available option at present.
Passphrase Language - The language used by your BIP39 mnemonic recovery passphrase - options include:
中文(简体) - (Chinese Simplified)
中文(繁體) - (Chinese Traditional)
English
Français - (French)
Italiano - (Italian)
日本語 - (Japanese)
한국어 - (Korean)
Español - (Spanish)
Market Data Provider:
The market data API source that ARKVault will use
Used for retrieving currency values for balances and transactions (for example, a Bitcoin balance or transaction value represented in USD)
Choose from 1 of 2 possible options, either CoinGecko or CryptoCompare
Currency - The preferred currency for balances and operations displayed throughout your profile (such as USD, CAD, EUR, BTC, and so on)
Time Format - Choose between a 12-hour and 24-hour time format for dates/timestamps within your profile's transaction history.
Reset Settings - Resets your profile settings to their defaults (Please note that this does not erase wallets or transaction history).
Security and Other
The Security section allows you to set your profile's auto log-off duration.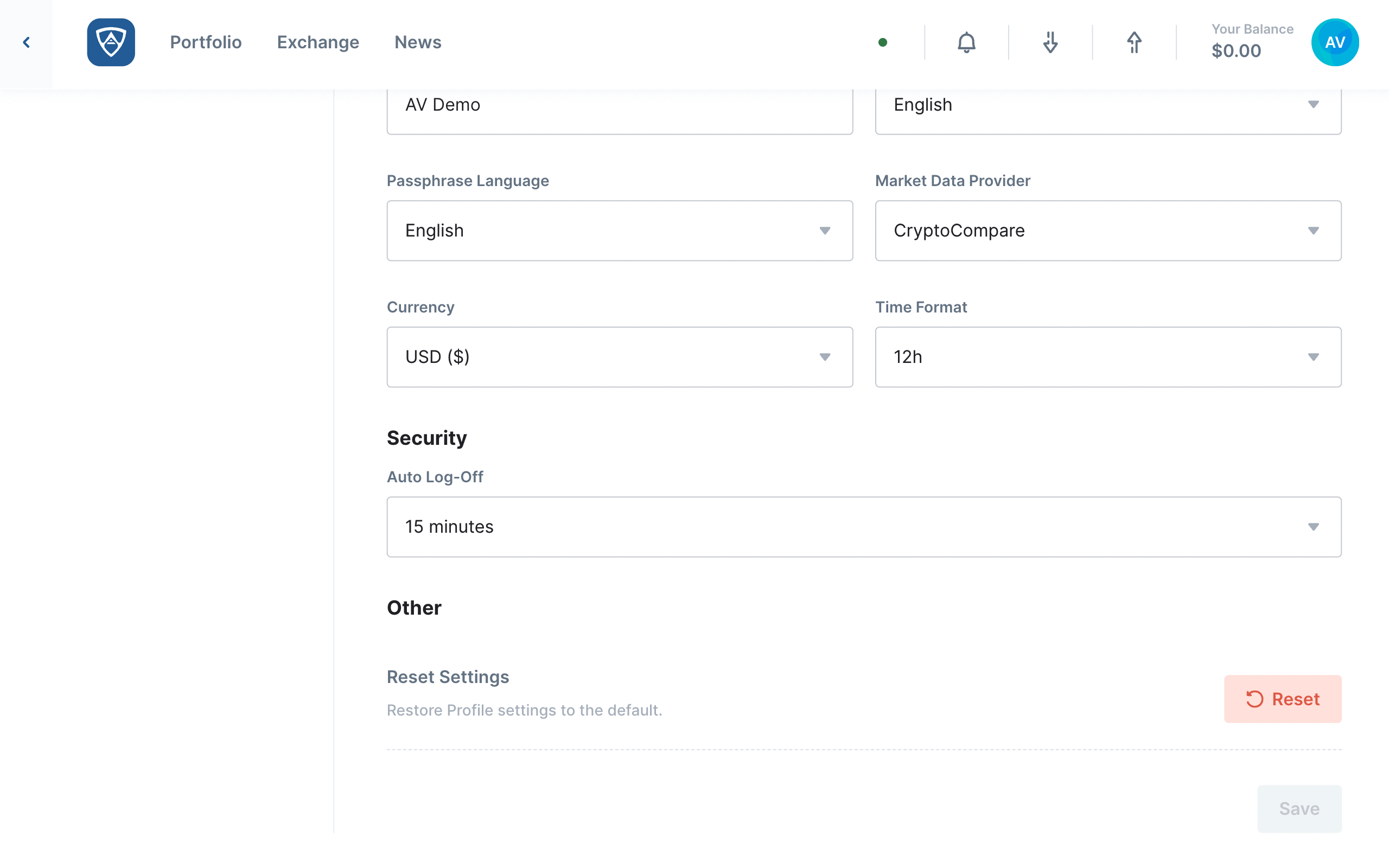 Auto Log-Off - This determines how long ARKVault will remain idle before automatically logging you out of your profile. You may set the duration to:
1 minute
5 minutes
10 minutes
15 minutes
30 minutes
60 minutes
Other
The Other section allows you to reset your profile settings to their defaults. Clicking the Reset button under Reset Settings brings up the Reset Profile Settings modal which will prompt you to confirm your choice. If you wish to proceed with the reset, click the Reset button. Alternatively, if you clicked the button in error or do not wish to proceed, click the Cancel button.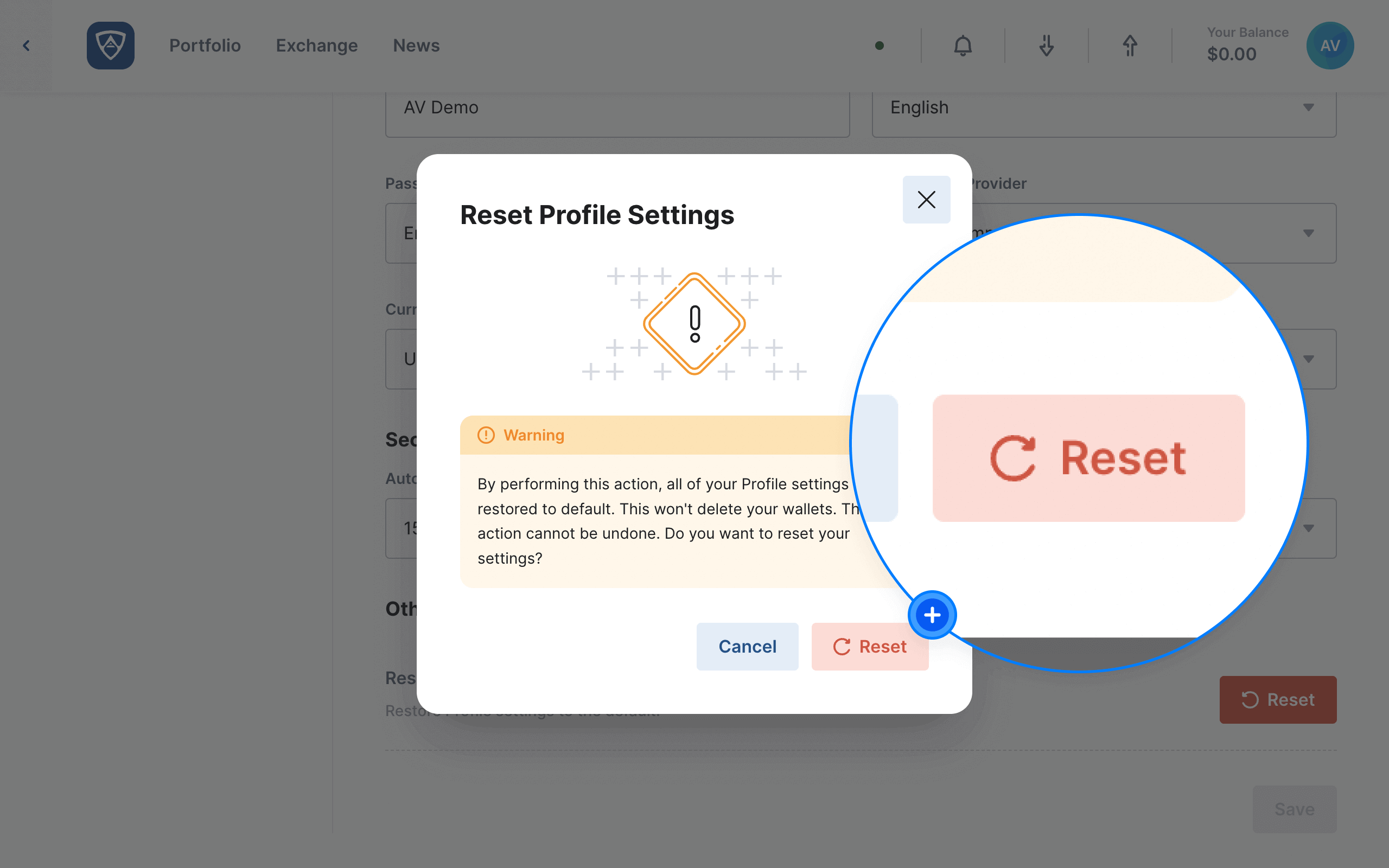 Warning
This action does not remove any of your wallets or transactions; only your customized profile settings will return to their defaults.
Save Your Settings
Upon finalizing your changes, click the Save button to retain them.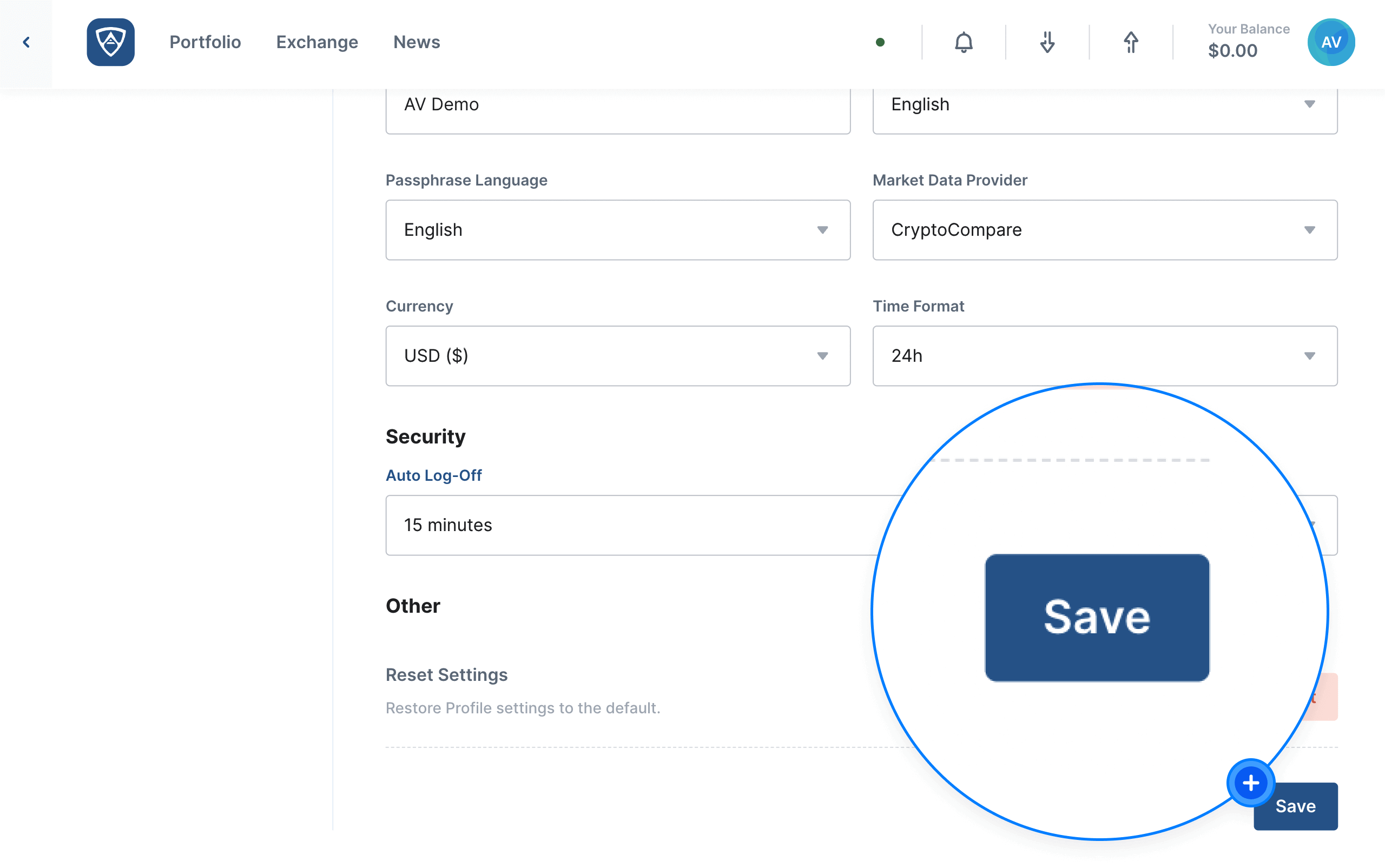 Success
A notification will appear in the lower right corner stating Your profile settings have been updated.